Relying on the golden triangle of the Yellow River area rich industrial resources, trade, finance, logistics, big data as support, technology as the core competitiveness, using the most advanced way of electronic commerce, supply and demand for industrial products enterprises, circulation enterprise, form the spot trading, supply chain finance, logistics, warehouse management and information service in the integration of the commodity supply chain integration services platform, the producers, suppliers, traders, end-users, logistics services, financial services, technical services the accumulation of the organic achieve logistics, business flow, cash flow, information flow fourth-rate one, strive to build the golden triangle of the Yellow River in shanxi commodity trading center.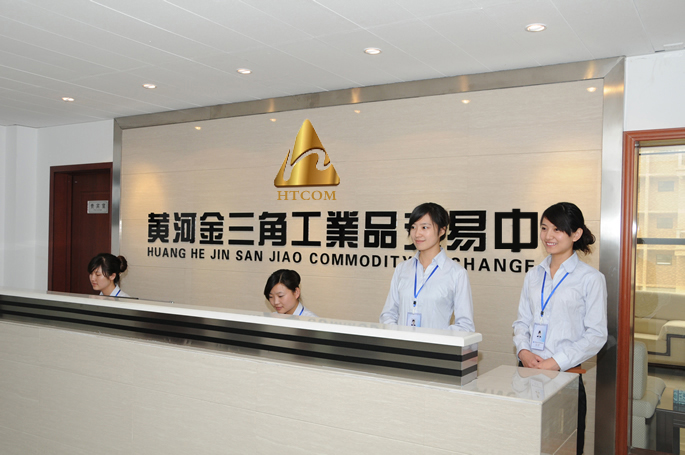 The yellow golden triangle industrial products trading center department
The golden triangle of the Yellow River trading center division five system
The yellow golden triangle business analysis diagram
Have already established cooperation unit
The golden triangle of the Yellow River logistics service supply chain is the golden triangle of the Yellow River industrial products trading center division strategy land port group relying on its own domestic or foreign raw materials suppliers, finished goods vendors, logistics partners, such as resources, from raw material supply for the customer, to finished goods buying and selling each link matching sufficient funds, to provide value-added services.Business scope covers iron ore powder, imported iron ore and other nonferrous metals, coal, coke, wire, thread slab, pig iron, steel, steel billets, steel products, such as the purchase and sale of scrap steel and dangerous goods, also the self-management and agent all kinds of goods and technology import and export business;Operating feed processing, foreign trade, entrepot trade, and the "three to fill a" business.Through trade with logistics, in order to promote trade and logistics implementation of the third party logistics and supply chain management, in creating benefits at the same time, improve the core competitiveness.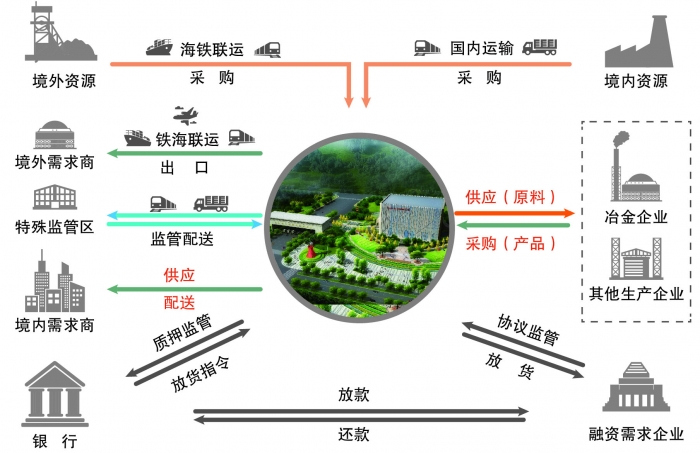 The golden triangle logistics supply chain service flow chart
Golden triangle logistics service supply chain is the group purchasing raw materials from overseas or domestic industrial raw material suppliers, through the logistics supply chain services to its transport to material requirement, such as metal smelting, power plants, and other enterprises, at the same time, we provide the finished goods in the process of the sales and distribution services, through the business platform to overseas and domestic demand, or through the bonded logistics center will finished goods distribution mode of transport to other special surveillance zone, to meet customer needs.In the process of the whole industrial logistics supply chain operation, we as a third party supervision enterprise joint Banks and financing needs to carry out of the warehouse receipt pledge business.
Division from the infrastructure, facilities, construction, investment in science and technology, etc are based on a high starting point to develop modern logistics:
Railway transportation: it has approved by the ministry of railways station 40 ft container commissioner, has a professional management team, mature operation of railway transportation team, annual capacity of nearly ten million tons of goods;
Road transport: set up the highway transportation, customs supervision team, set up a wider coverage, with complete functions of air cargo stowage information network, effectively integrate the social resources of highway transportation, can provide customers with logistics extension services;
Multimodal transport, iron, sea road, with tianjin, Qingdao, lianyungang, rizhao port, freight forwarders and working more closely with domestic and foreign shipping companies, realize the seamless highway, railway, sea transport;
Warehousing and logistics value-added services: purchased at home and abroad advanced logistics equipment, can provide customers with warehousing, simple processing value-added, distribution, distribution, agents, customs declaration, inspection declaration all-round services, information consulting, etc.