The division operates with close cooperation with the ports of Qingdao, Tiajin, Rizhao and Lianyungang. The national Railway Administration has opened five lines from the ports to our Centre, thus allowing us to achieve a seamless transit from international shipping ports to domestic transportation. In cooperation with China Customs, the inspection & Quarantine Bureau, Shipping Companies, as well as insurance firms; we are able to improve on providing services, drastically reducing logistic cost and time.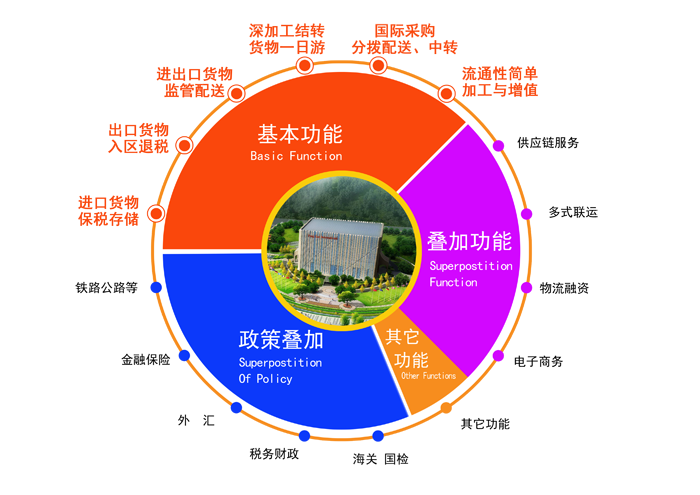 Business mainly includes at present:
1.The self-management and agent all kinds of goods import and export business
Rely on the public platform strategy bonded logistics center, we actively develop the self-management import and export business, at the same time also generation of customers on goods imported under processing trade, the formalities of customs declaration, inspection declaration of export goods within the territory of the imported goods in bonded supervision procedures, export tax rebates, regulatory procedures.
2.Business agent for the deep processing of goods carry forward "one-day tour"
According to need, deep processing of upstream and downstream enterprises of all kinds of export processing trade for carry forward the "one-day tour" business, solve the problem of air after the import and export of processing trade.
3.International procurement transshipment business
Take advantage of the enterprises in the area within the bonded logistics center strategy for multinational enterprises with international procurement, international transit distribution services.
4.The sea - iron - land multimodal transport business
Fanglue for bonded logistics center, brings together the ports, shipping companies, box company, railway, highway, finance and other advantages, can provide customers with door to door sea iron land multimodal transport services.
5.Domestic logistics and distribution services, logistics, financing services, information consulting services and other services
Company engaged in bonded logistics and international trade logistics services for many years, has a professional management team and marketing team, has built a strong mature service networks and smooth marketing channel, has a good reputation, is your ideal partner.
Click into the Fanglue group bonded logistics operations business website